We all know the importance of the Do Not Disturb function in all the different sides of our life, mostly the digitally technological ones. Using an Android smartphone means that you're playing with a bulk of pings or notifications, and those become interrupted when they exist in bulk. Whatever notifications you're getting momentarily on WhatsApp Plus, when we see statistics, WhatsApp is the king of notifications and all those ping sounds.
However, you need to be connected with the Internet for all other important things, but simultaneously you hate those notifications. If that's the case in your messaging, DND Mode is the best feature of WhatsApp Plus to help you further in minimizing the notifications and simply disable the working just for WhatsApp messaging for the required time.
You can use this feature while you're in a meeting, taking important video calls, taking classes, or talking about important things with someone. Whenever you want silence from the WhatsApp messages and take a little more of your time, it's better to enable the DND Mode for WhatsApp Plus. This will deliver you whole silence from the WhatsApp Plus application, neither will you get any of those messages, calls, statuses, or notifications until you disable it back.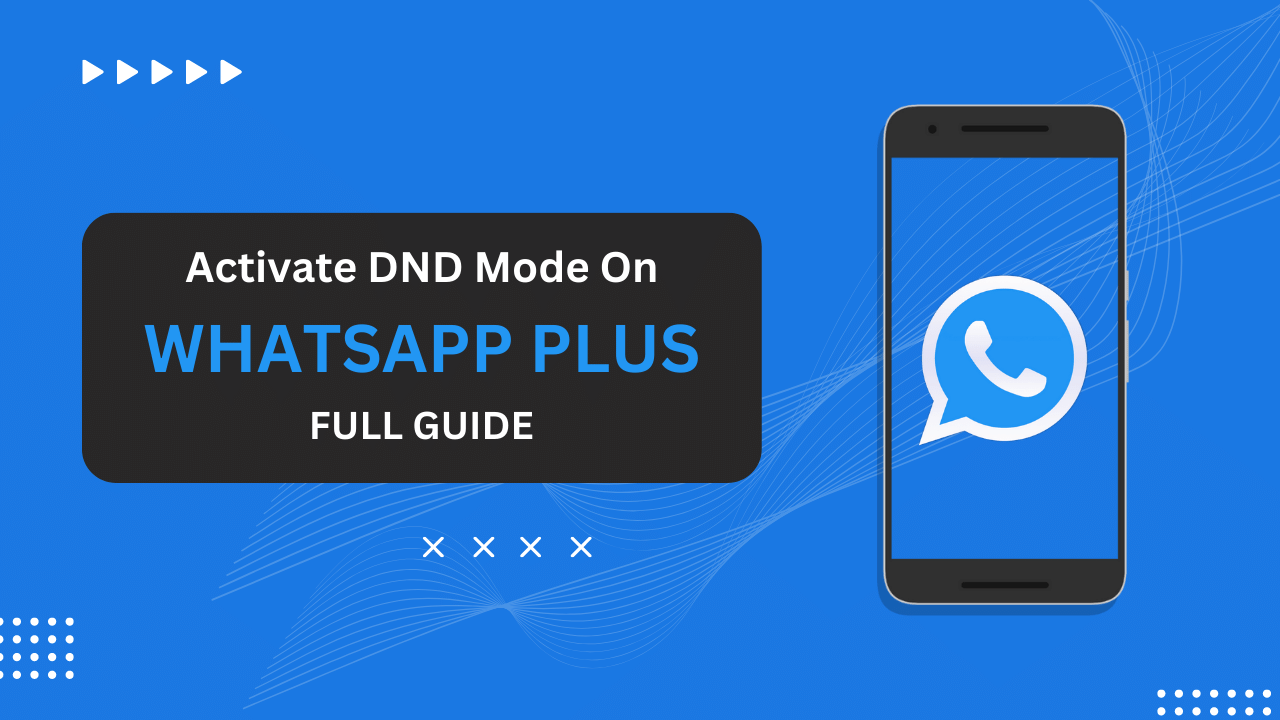 What is DND Mode in WhatsApp Plus and How does it work?
DND Mode is the Airplane mode for WhatsApp Plus. For those who want some time to disable the WhatsApp messages and all those notifications on phone's screen, sound notifications, or the always on edge dots, DND Mode is something which can help you. Do Not Disturb is a mode which can get enabled simply by clicking a single button marked as the Airplane mode on the top panel of the WhatsApp Plus APK interface.
It won't be easy at first to enable the DND mode in WhatsApp Plus, as we know the struggle. That's why we have created this guide to help you enable the DND Mode for the WhatsApp Plus on your Android smartphone. One more doubt may arise in this series, that is how DND Mode actually works in WhatsApp Plus. If that's your question, and finding the answer on different pages, let us solve your doubt in a single paragraph of knowledge.
WhatsApp and all such messaging apps work through the Internet, and it's simple to understand that these apps cannot work without the internet. What happens here is that WhatsApp Plus disables the internet activity for the application after you enable the DND Mode. When using the official WhatsApp, you may have to go through the larger settings procedure for turning off the internet, and processing the same procedure again and again. Besides, use a DND button here in WAPlusAPK.me.
Steps to Activate DND Mode in WhatsApp Plus?
Good question, and the answer is as simple as your question. Activating a toggle is what you need to enable the DND Mode in WhatsApp Plus, and it'll pass as simply as you cannot even think. Likewise, you press a button to activate meeting mode or airplane mode on your android and bar phones, DND Mode is a one-click option that you can enable on WhatsApp using the below process –
Install and launch the WhatsApp Plus app on your Android smartphone
On the topmost panel of the app, you'll see an Airplane icon.
Click this Airplane icon, and then you'll be asked to enable DND mode.
Tap the Enable button and guess what? You have just enabled the DND Mode for WA Plus.
From now on, you won't get any message or call notifications from WhatsApp Plus until the time you disable the DND mode back. Disabling it is also a simple and concise process and goes the same as the above steps.
Steps to Deactivate DND Mode in WhatsApp Plus?
When you want to get back online on WhatsApp Plus, see all those recent messages, or simply disable the DND Mode for the application, you need to follow the same procedure, but now for deactivating as followed below.
Launch the WhatsApp Plus app once again.
Find out the same Airplane mode or DND Mode icon on the top panel.
Click it once again, and this time you'll see the Deactivate window.
Hit the Deactivate or Disable button to disable the DND Mode and start getting messages again.
Steps to Activate DND Mode in Official WhatsApp Messenger?
There is no such option like DND Mode in the official WhatsApp Messenger, and that's why people get switched to WhatsApp Plus for all such heavenly benefits.
However, if you would rather not leave the official WhatsApp space and still want to activate DND Mode on WhatsApp Messenger, the below steps are required to be followed. This won't be as simple as while you activate DND Mode in WA Plus, but it's an only process to enable DND.
Find the WhatsApp Messenger icon on the app launcher.
Click and hold the WhatsApp Messenger app icon until you see the list of options.
Tap the App Info button to open the app settings.
Scroll down, and you'll get an option named Restrict Data Usage.
Hit that tab and disable the internet for both the SIMs and Wi-Fi.
Now, you have turned off the internet for WhatsApp Messenger and none of the messages will have any ping notifications on the WhatsApp Plus application. You should have to follow the same above process and enable the data back in the Restrict Data Usage tab to disable this feature back.
Benefits of Activating DND Mode
There are a few benefits of DND Mode in WhatsApp Plus to mention. We're taking a follow-up with all those important features so that you can find out any feature responsible for your attraction to the WhatsApp Plus app.
Simplicity
DND Mode is enabled superficially in the WhatsApp Plus application, just by clicking a one-click DND button and activating it ahead. In contrast, the official WhatsApp can only get the DND mode after disabling data for it by getting into the official App Info settings and restricting data usage every time we want to enable it.
Good for Meetings
Whenever you're having any meetings and the biggest distractor or notification sender app is WhatsApp Plus, you can enable this DND Mode, in place of activating Airplane Mode for your phone. Airplane Mode disables every online protocol, including Wi-Fi, Personal Hotspot, and Bluetooth, but WhatsApp Plus's DND Mode disables the servers for the app itself.
No Online Calls
Apart from WhatsApp messages, you will also get rid of all those online WhatsApp video and audio calls after enabling the DND Mode on the Plus version. Just after enabling it, you can try asking your friend for a phone call, and luckily, it won't even show ringing on their app's interface. You're not just on Do Not Disturb mode, but people can also see you're offline.
Related Article: